TallCastle Capital, LLC differs from most other Private Equity (PE) Companies in a number of important ways.  We believe these differences will allow us to assemble a unique portfolio of investments which we believe can lead to attractive returns.
Our motivation:  We put our heart and mind to the idea of this fund. By combining our talents with others we create success and social impact. With our passion for people, technology insights and network (friends) we know how to accelerate our portfolio companies even faster. It is not about us, but about them: the entrepreneurs. Have a look at our mood board to sense some of our virtues and values.
Target Companies:  TallCastle intends to invest in companies which are smaller, going concerns generally known as Lower Middle Market (LMM) companies.  These companies typically have real products, customers, revenues, cash flow, attractive and growing markets and annual revenues between $5 and $50 million.  Often, these companies are not growing as fast as they could because they have encountered one or more challenges that might include a lack of financial capital, an inability to expand geographically, an aging management, a lack of vision, inefficient marketing resources, or other critical variables.  By adding capital, management talent and outside assistance, TallCastle believes we can unlock the inherent value in these companies, help them grow faster and increase their market value.  Importantly, these companies are ignored by almost all Private Equity (PE) and Venture Capital (VC) organizations.  They are typically too small for PE firms and too old for VC firms, leaving TallCastle with a very large, fertile market from which to select target investments.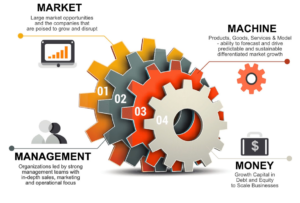 Geography:  Most VC firms are very regional in scope and typically assemble their portfolios from compacted geographical areas (e.g. Northern California or New York).  PE firms are typically more geographically diverse, but are looking for much larger companies than the LMM companies targeted by TallCastle.  Our strategy is to find excellent investment candidates across a wide range of geographies, including the US (Canada), Europe and Asia.  We intend to travel to where we find the best opportunities.  To accomplish that, TallCastle's Managing Directors are physically located in the Western US, the Northeastern US, and Western Europe.  TallCastle MDs also have extensive experience in Asian relationships.
Value Added: Most PE and VC firms add value to their investments by attending meetings of Boards of Directors and by assisting management in running their companies.  In addition to those functions, TallCastle reaches out even further.  With a network of over 400 professionals in every business discipline, TallCastle will bring in the necessary resources to address the specific needs and opportunities of each Portfolio Company.  Utilizing these highly qualified resources, we believe we can optimize the strategies and operations of the companies and help them become more successful.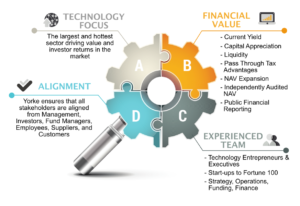 Experienced Team:  Most PE and VC firms have very accomplished professionals to identify promising opportunities and creating value.  TallCastle has all that plus more.  Among our Founders are people who have invented new technologies and hold valuable patents; who have raised and managed funds in excess of $15 billion; who have invested in more than 80 companies and 500 partnerships; who have a combined 75 years of experience in public and private investing; and who have created and run small companies themselves.
Corporate Partners:  One of the most important differentiations between TallCastle and other PE firms is the makeup of our potential investors.  With investors from among the PITA group, TallCastle will endeavor to choose companies that will be of strategic interest to our investors.  As investments are made, we intend to introduce these companies to the PITA investors which should result in two very positive outcomes.  First, the portfolio companies will have potentially large, new customers in new markets.  Second, our investors will have access to new technologies faster and at an earlier stage, allowing our investors to use these technologies, re-sell these products, or partner with the portfolio companies in new markets or with new products.  Additionally, and very importantly, if one of our investors so desires, TallCastle can attempt to arrange an investment from one of our investors directly into the company, giving each company a much deeper relationship and advantage in future products and markets.
Liquidity:  Most PE and VC firms look to two sources to exit their investments:  Take the company public through an IPO or sell the company through a Merger or Acquisition (M&A ).  TallCastle has these options available as well.  In addition, however, we expect to utilize other avenues for exiting our investments, giving us more flexibility and seeking the highest possible return.  These other avenues include selling a company to one of the corporate partners; selling to another PE firm which wants to take our company to a higher level through additional capital investments; merging with another similar company (also known as a roll-up) in order to expand the product portfolio or expand the geography; and the possibility of the company being purchased by one of our own investors.